RH TIPS & TRICKS
Think you know everything about Roswell Heaven? I'll bet you can learn something new here!
These are lesser-known or 'secret' features on Roswell Heaven.
FINDING FANFICTION
We get people all the time who are looking for specific fanfic. We have a ton of fanfic here, so it can be a daunting prospect to find a certain one, but we do have ways that make it easy.
ADVANCED SEARCH
This is the most powerful tool we have on Roswell Heaven and it seems like it is pretty much unknown.
It is also the quickest and easiest way to search for fanfiction.
It is located just to the left of the SHOUTBOX.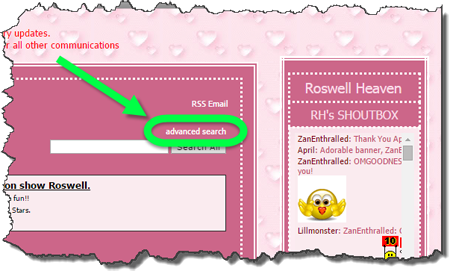 Click the link and you see all the awesome search tools available. (My favorite is the keyword search)
You can even search by post date and in specific forums.
FANFICTION INDEXES
We have indexes that list all of the fanfic posted on RH and they are sorted by author, title, and ship.
Current fanfic is listed in the index -
here
Each archive of reposted fanfic has its own index. Check out the index at the top of each forum.
FINDING THINGS ON RH
I am continually surprised when people say they can't find things on the board.
We actually have set up several ways to find things.
BOARD INDEX
The main way to find things on the board is the board index.
How do you find it, you ask - well, it is in the top section on the board in
 the Help Desk
.
There is even a label, Board Index.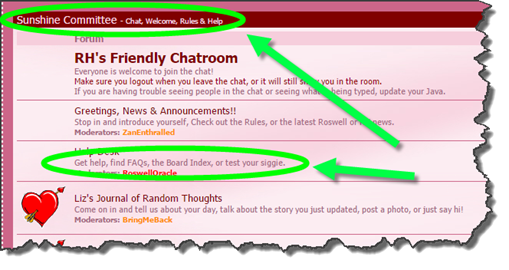 The Board Index is also visible on the board at ALL TIMES, on the sidebar.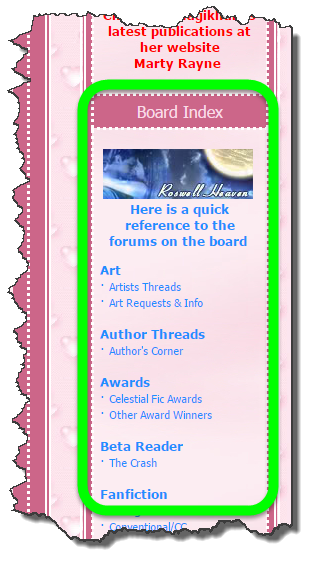 SECTION AND FORUM HEADERS
Another way to find things on the board is by reading the header descriptions. They are all labeled. 
Here we can see that the Sunshine Committee section has Chat, Welcome, Rules & Help.
And in the Help Desk forum you can find FAQs, Board Index and Siggie Testing.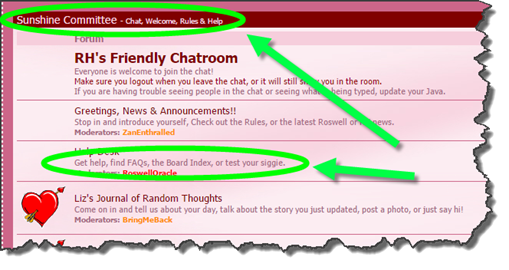 TOPIC GROUPING
You may notice that we try to put things together that go together. 
All the in-progress fanfic is together. 

All the discussion groups are together.

All the archived fanfic is together.
Granted, it is not always easy to categorize things, so if you still can't find something, then you can refer to - gasp - the Board Index.
NAVAGATING RH
MAIN BANNER
You may not realize, but anywhere on the board, you can click the main banner, and you will be returned to RH's main page. 
MAIN PAGE
On RH's main page, the topic displayed in a thread is the last topic that was updated. 
You can jump directly to the last page of the topic by clicking the topic name.

BREADCRUMBS
What are breadcrumbs? They are links that show the sections, forums, and subforms of where you are on the board. 
RH lists breadcrumbs on each page. You can click a breadcrumb to jump back one level or multiple levels.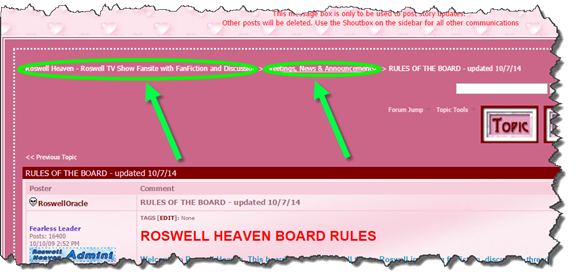 SIDEBAR
Many of RH's most popular and most helpful forums are listed on the sidebar and you can jump directly to them by clicking the links.

FINDING MEMBERS
There are two ways you can easily tell if I member is online:
MAIN PAGE
On the main page of Roswell Heaven, there is a list of who is online.

IN A TOPIC
If you are in a topic where the member has posted, you can see if they are online by the icon next to their name.

- indicates offline
- indicates online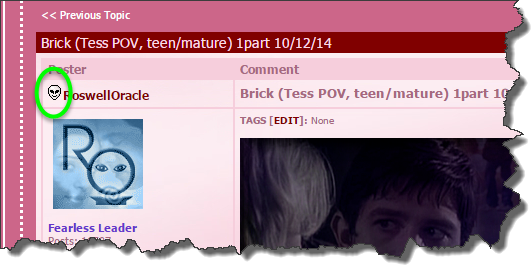 CONTACTING MEMBERS
You can contact a member by going to their home page by clicking 
"Write Me".
You can access a member's home page by clicking their name pretty much anywhere you see it on the board - such as in the Shoutbox, places they have posted, and on the main page when you see them online.